I have been dying to go to a Michelin Star restaurant for the longest time and finally had an opportunity to do so during my latest trip to Las Vegas, Nevada.
My mom and I spent some time in Las Vegas together shortly after both of our birthdays so I decided to splurge [ah!] and take us both to a really nice birthday dinner. It's the most expensive and most highly acclaimed Las Vegas Michelin Star restaurant that I've been to [so far].
I chose Le Cirque because the reviews are great, the menu sounds incredible and the food looks like art. That's a good enough reason, right?
---
We each went with the three course menu, but got different things so we could try more. From the start of the dining experience to the end, everything is perfect and everyone is so warm and helpful.
The meal starts with an amuse-bouche, which literally translates to mouth amuser. This is served inside an egg shell and has a foamy top layer and a carrot bottom. It's a great way to start off the meal, along with delicious breads. Following this, we chose the lobster and avocado salad as well as the hidden spring garden. Both have a beautiful presentation and great flavors. For my entree, I chose diver scallops while my mom chose potato crusted Mediterranean sea-bass. This is, without a doubt, the best sea-bass I've ever had. It's served over a pinot noir sauce that gives it such incredible flavor. I would eat this as often as possible, if I could.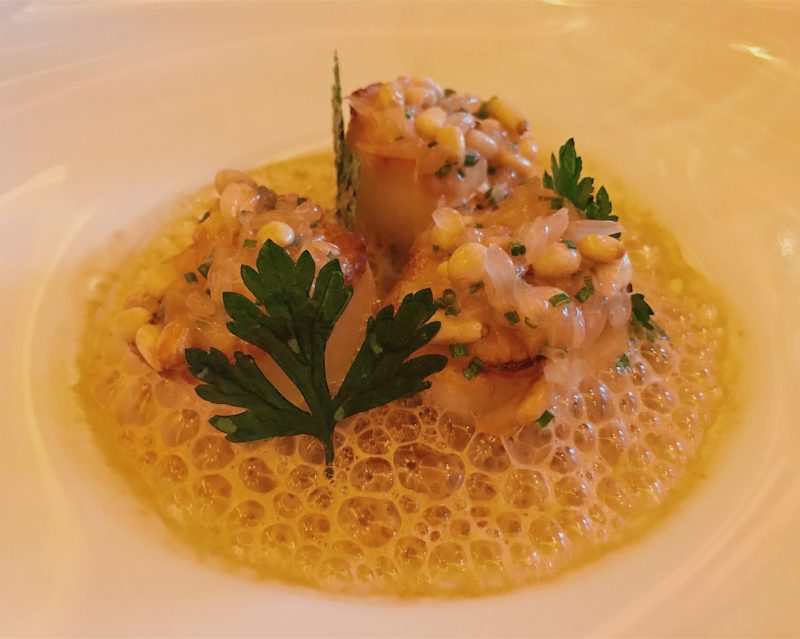 Before our main course, I saw another group receive a gold pineapple, but couldn't see if it was a drink or something else so I asked our server what it was and after he explained, he surprised us by bringing us one. It's a juice ball – filled with fruit juice and is a burst of flavor. It's served as a palate cleanser for the larger tasting menus and is such a cool way to transition between courses.
I prefer less sweet desserts than my mom, which is great when we eat together because we can share a little bit of each one. Le Cirque's desserts are also beautifully inventive with great flavor. I chose a raspberry parfait with lychee and champagne jelly while my mother decided on the chocolate ball. The ball melts as a chocolate sauce is poured on top revealing the inside. We had these with some pretty great lattes to round out our meal.
Overall, I really enjoyed the atmosphere, service and food of this Las Vegas Michelin Star restaurant. The Bellagio is home to more than one Michelin Star restaurant so they know what they're doing and so does everyone at Le Cirque. I would definitely recommend going here if you're looking for an experience rather than just a meal.
---
*While Las Vegas no longer adds any NEW restaurants to their list, there are still many places that received a Michelin star and are still in business and thriving.