Atlanta, Georgia is home to many coffee shops with even more options and variety. It's hard to choose which Atlanta coffee shop is best or if there even is one.
I love coffee shops for different reasons: drink/food options and atmosphere. Each one offers something unique while also having something in common, coffee!
Octane
Octane Coffee in Grant Park is a favorite for its open space and transition into a bar at night. It even overlooks Oakland Cemetery, where Atlanta legends like Margaret Mitchell and Bobby Jones are buried. There's also Little Tart Bake Shop inside, which creates delicious pastries. It was recently purchased by Revelator Coffee, another regional chain, which has changed names, but it's always Octane to us! – Caroline Eubanks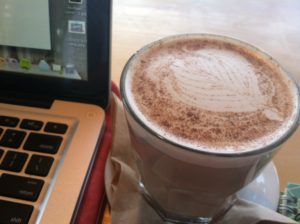 Spiller Park Coffee
Spiller Park Coffee has been the staple coffee shop in Ponce City Market for a few years now, so it's no surprise Chef Hugh Acheson and Dale Donchey recently opened a second location in the Toco Hills Shopping Center. They have a similar menu to the original, which is great! The outdoor seating area is absolutely beautiful, as well as the wooden interior. Although Spiller Park is primarily a coffee shop, be sure to try a toast or two! The avocado toast is one of the best in the city. They also offer seasonal toasts and muffins, if you prefer something sweeter. With amazing dairy free alternatives (Treehouse Milk) and unique beverages such as a Turmeric Tonic Latte, Spiller Park Coffee has something for coffee lovers and everyone alike! – Savannah Berry of Healthy Sav ATL
Land of a Thousand Hills
Situated in a cute little house that's on the way to downtown Roswell is a great coffee, tea and baked goods shop. They roast and brew up some amazing coffee, but are also committed to doing good for the local community as well as the people that grow their coffee. Land of a Thousand Hills has been brewing and helping communities for over ten years with their slogan "Drink Coffee, Do good."
They invest time and money into the places that grow their coffee so that the families that grow the coffee can flourish and in turn, LOTH gets amazing quality coffee. When you buy their coffee you are helping support that mission as well as receiving a top quality coffee that is roasted when you order if off their web site. They recently opened a location in Atlantic Station that serves some food in addition to their coffee and baked goods. They have a location in Midtown and Cumming as well. – Arielle Kleinman
Morning Dove
Mourning Dove Café opened in the Shops of Buckhead in December 2017. Mourning Dove is a Revelator Coffee Shop and
has local vibes that are often sought out for a coffee shop. They use local – Treehouse Nut Milks as a dairy free alternative to
any of their beverages. They also offer a small, changing menu of food options from Chef Andrea Kirshtein. She offers items such as quiche, coffee cake, oatmeal, shakshuka and more depending on the day. Pro Tip: Order a Cashew Milk Latte with the seasonal quiche, it is the perfect start to any day! They also offer parking vouchers for the decks around the area. – Savannah Berry of Healthy Sav ATL
Muchacho
From the owners of Ladybird Grove and Mess Hall comes a new coffee shop concept – Muchacho, Atlanta. It's located in the up and coming Reynoldstown, in the cutest little space. It has retro vibes and a menu to match. The avocado toast toppings vary so I was surprised to get heirloom tomatoes, pickled red onions, and hemp seeds to make the sourdough toast far from boring. They also offer a variety of pastries, toasts, and tacos! My nonfat latte was a not only a work of art, but also delicious! While the inside is a little small, the outside seating area is perfect to enjoy a nice fall or spring day. – Savannah Berry of Healthy Sav ATL
There's plenty to do in Atlanta so be sure to check out my other posts when you're in town!
*If you have another favorite, leave a comment so I can add it to my list!