Miracle on Monroe
Pop-up bars are becoming more and more popular each year. These bars can feature anything from a popular TV show to holidays. Miracle on Monroe is Atlanta's original pop-up bar with a second location added in 2017 because of its popularity. The original location is smaller so the wait can take longer, but it can be seen as the better location because of its size and how cozy it feels. The second location, Miracle Two, is larger and allows for a faster moving line.
Getting In
Getting into the bar is the tricky part. It's open Wednesday-Sunday with Monday and Tuesday being reserved for private parties. Both locations open at 5, but the line starts forming before. The wait can sometimes be longer than three hours so I would recommend going on a weeknight and getting there by 4:30pm so you're close to the front of the line. There's no time limit once inside so if the people in front of you decide to stay for a few hours that will delay your entrance.
Drinks
The Miracle bartenders are Atlanta based and tend to work at other Atlanta establishments known for their cocktails. This means their drinks are made well and taste delicious. My friend and I tried decided to share drinks so we could try more and we ended up trying six of them and agreed that each one is inventive and so good. My favorite is the Christmapolitan, but I also really enjoyed the Yippie Ki Yay Mother F****r because it comes in a mug that looks like Santa's pants. Each drink has a different flavor or vibe, but each one comes out tasting just like Christmas.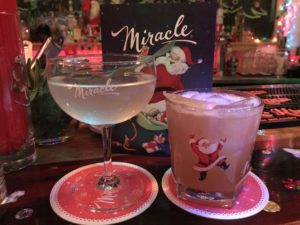 Food
There is food served here, but it wasn't too exciting to me. We decided to have Christmas cookies and the spicy Chex-mix, which were both good as a snack. I wouldn't recommend going in without having eaten as most of the food items are snacks and appetizers, but if you get enough of them it could definitely fill you up. Their menu items all have fun holiday theme names like Schweddy Balls (meatballs) or a Plate for Krampus.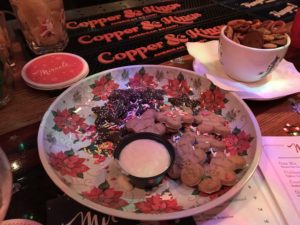 Christmas Cheer
As soon as you walk inside you're transported to a holiday wonderland. The entire space is filled with lights, music and every type of decoration you can think of including a backdrop for photos. One of my favorite parts is the murals on the walls that show different characters fro holiday movies like Elf and the Grinch. Holiday music is also constantly pumping through the speakers, some classic songs and some remixes that I think should now be classics.