Bratislava, Slovakia is nestled among the Danube River and near the border or Austria and Hungary. This makes it an easy place to get to and a city you shouldn't miss when visiting its neighbors.
Bratislava might seem small compared to other capital cities in Europe, but it's such a lively city with people coming together for all types of festivals and other happenings. There's plenty to see in Slovakia's capital city, Bratislava, and here's my list of must sees if you only have 24 hours to explore.
---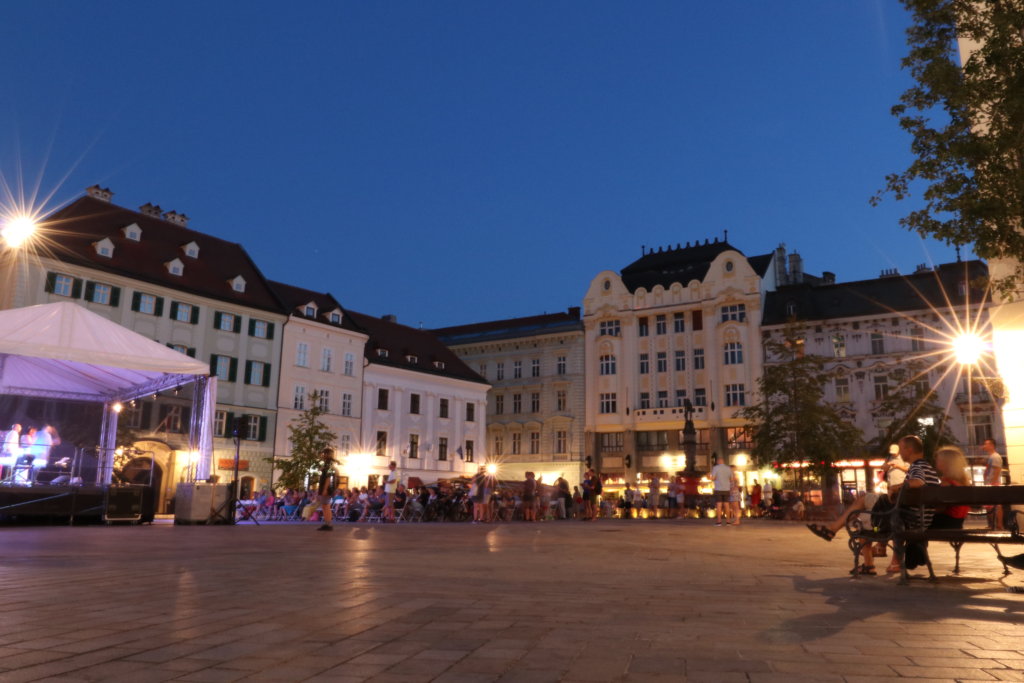 One thing I did while in Bratislava that I really enjoyed was wandering around the city. I kept finding really cute alleyways or even live music playing in a square. There are plenty of things to see and do even if you're only in Bratislava for 24 hours. Be sure to check out the events happening during your visit. If you take a bus into the city there are two stops so be sure to pick the one that is closest to where you're staying or what you want to see/do while there.
---
Things to Do
The Church of St. Elizabeth or the Blue Church, as most people know it, is a really unique Catholic Church. It is still running so depending on when you visit you can peek inside or maybe even go to a service. It's located on the Eastern part of Old Town so is not a far walk from the heart of Old Town.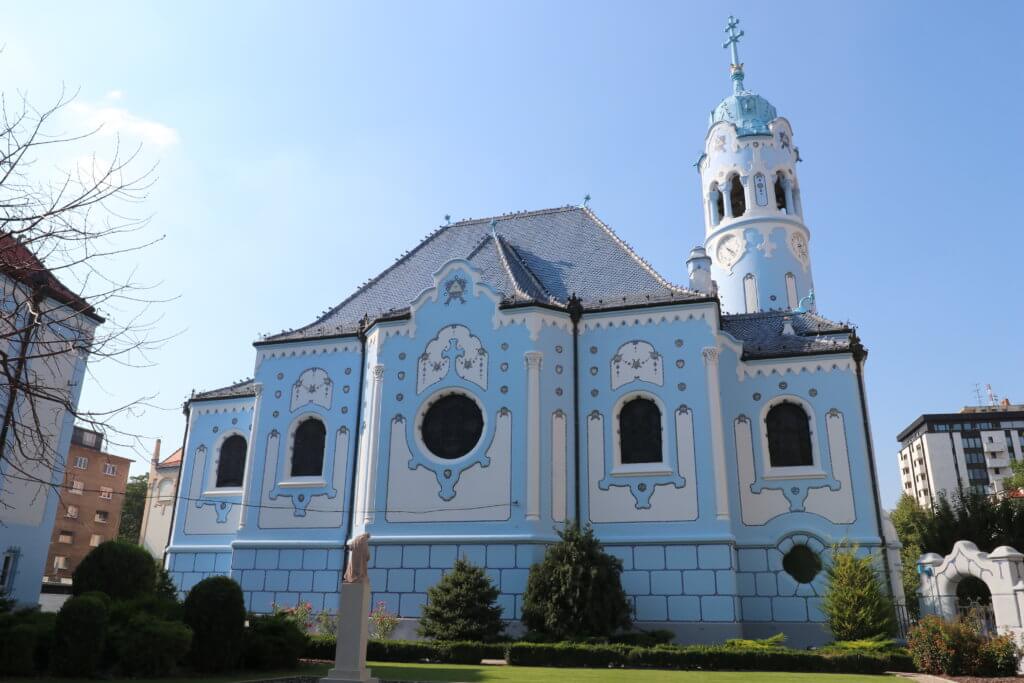 Bratislava Castle is one of my favorite places in the city. The views are stunning and you can even get a little workout in if you walk up the steps and around the castle grounds. I recommend going early in the morning. We arrived around 8:30 am and by 9:00 am the tourist buses started to arrive and all of a sudden there were people everywhere. If you want to look around, take photos or just have a little bit of quiet while here then definitely go early.
Another easy to get to and significant location is Michael's Gate. It can also get crowded so if you want a photo without people you need to get here early. This is the last gate of a medieval city that is still preserved. There's a Museum of Arms here that you can visit for a few USD.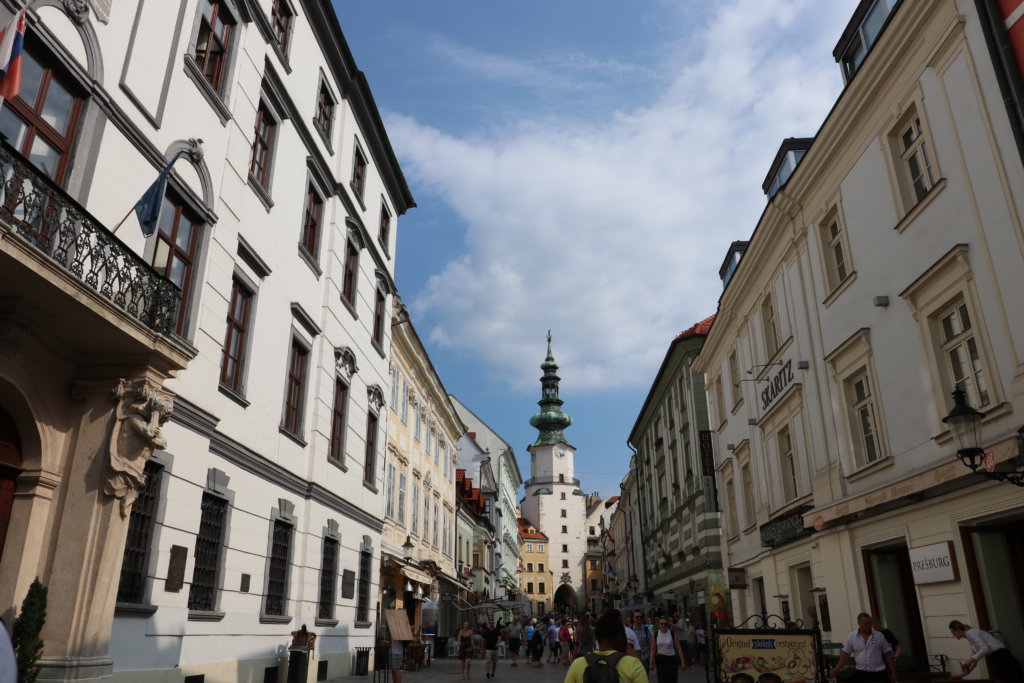 Another must-see and something you will probably see without even looking are the statues around Old Town. These are human sized sculptures that are scattered throughout the city. Each own has its own story and purpose. It's fun to take a photo with them when you find them.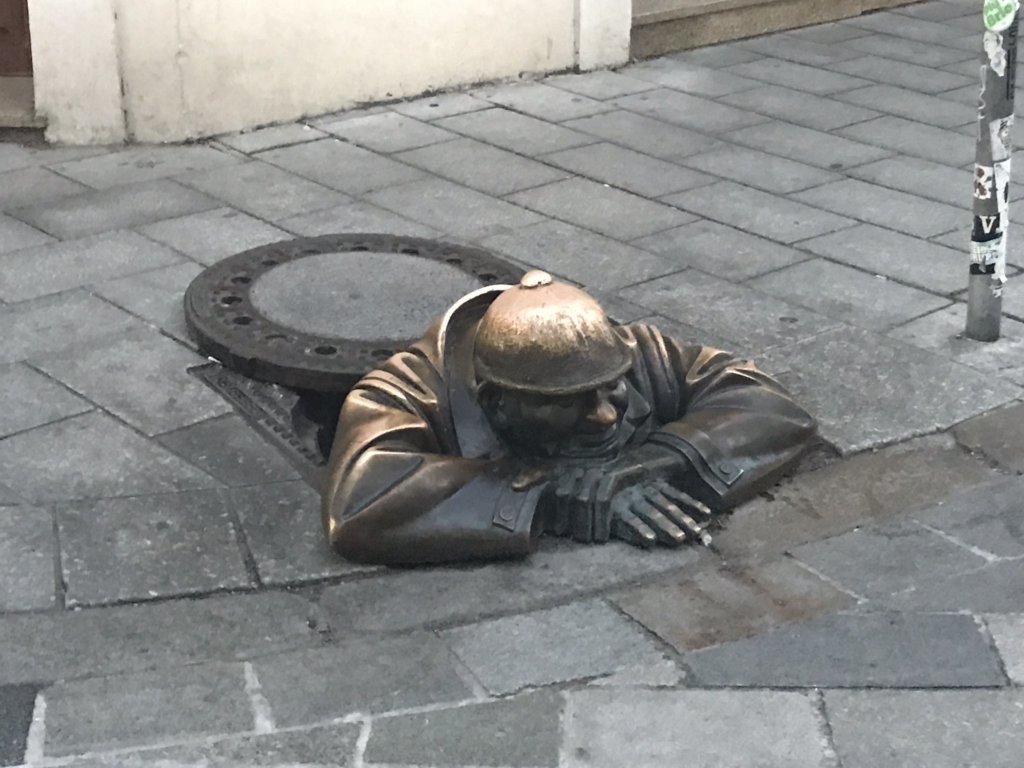 If you're looking for a place to hangout for a bit, grab a drink or maybe meet some friends then I'd cross the Old Bridge and post up at a Pivovar (brewery) or restaurant along the Danube. This is especially great if the weather is nice. On this side of the Danube you can also check out the UFO Observation Deck to get a great vantage point of Old Town.
---
Where to Eat
Old Town Bratislava is full of cute cafes, restaurants with patios and plenty of ice cream shops. I made most of my meals in my Airbnb while here, but definitely tried a few local spots too. For gelato, i Nonni was my favorite spot. I actually got gelato/ice cream here twice. They have great flavor variations and even have different colored cones. If you're wanting something on the healthier or heartier side then Fach is another great choice. It's very close to St. Michael's Gate and has juices as well as eggs, etc.
If you're looking to grab a beer and some authentic Polish food then Meštiansky Pivovar is a good choice. They have a large menu and everything we tried was great. Mondieu is another cafe that I enjoyed in Old Town. I had a great brunch here and worked for a couple hours before having to catch my bus.
---
Places to Stay
There are some great places to stay in Bratislava. I recommend choosing a place that is in Old Town if that's where you'll be spending most of your time. It's the perfect area in my opinion because you can get around easily here.
I stayed in an Airbnb while here, which was great for my stay. I was able to go to the market and cook food, which helps to save a little bit of money. If you don't already have an account, click here for a small discount.
---
Want to save this page for later? Don't forget to pin it!
*This post might contain affiliate links. These links are at no additional cost to you and allow me to continue creating content.