Each year, Huntsville, Alabama celebrates its culture and community with an incredibly large and well-thought-out restaurant week. This is the 6th annual Huntsville Restaurant Week, not to mention the best so far! There are 60 restaurants and 5 local breweries joining in on the fun with events as well as lunch and dinner specials at each participating restaurant.
I was lucky enough to enjoy five of the 60 participating restaurants along with five other bloggers and we had some incredible food in some unsuspecting places.
---
Our first stop in Huntsville, New Orleans Lunchbox, is the most unsuspecting from the few I visited. That's because it's inside a gas station. You don't typically see restaurants that aren't fast food chains in gas stations, but when you see how busy it is inside you know you're going to eat well. The owner, Roland, is from New Orleans and opened NOLA Lunchbox about seven years ago and each item is cooked from scratch so you know you're getting a good meal.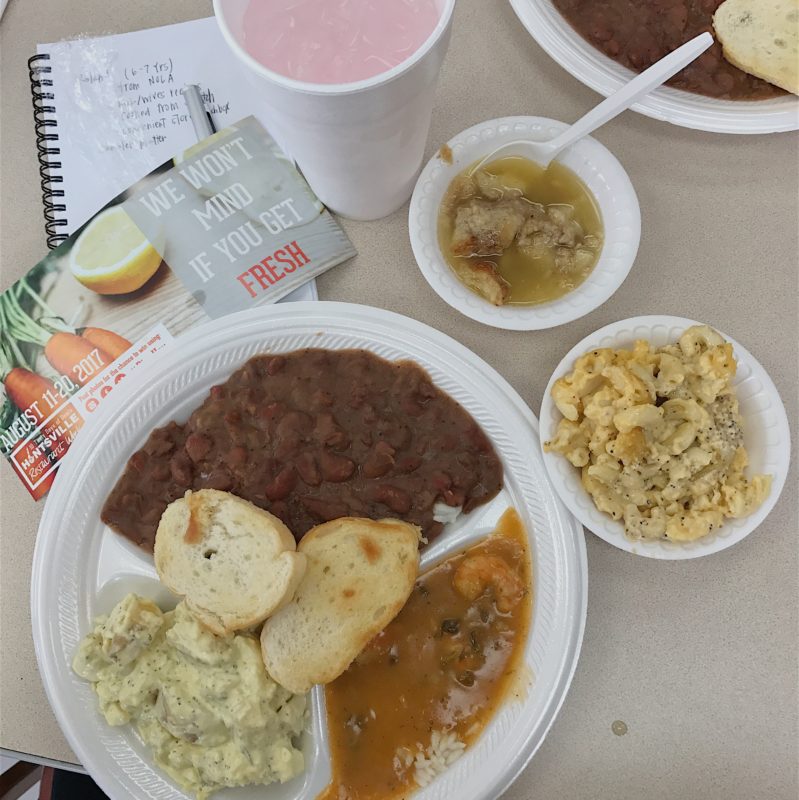 We started with dessert [yes, please!] and it was probably my favorite part. It was a whiskey bread pudding that had the perfect amount of whiskey and such a great flavor. I also had shrimp etouffee, potato salad, red beans and rice, mac and cheese, and a toasted baguette. Each dish had such great seasoning and truly reminded me of being in New Orleans.
---
For dinner, we ventured closer to Redstone Arsenal and had the opportunity to explore not one, but three restaurants. Having the same owners, but unique and differing visions is what makes these three restaurants so great and unique. Dipwich offers sandwiches, Fiero is a Mexican grill and Rocket City Tavern has incredible offerings for food, drinks and even has meeting and event space.
Out of the three awesome spaces here, we ate in Rocket City Tavern. When you think of a tavern you don't expect food with such incredible flavor and creativity as Rocket City Tavern offers. The atmosphere is open, bright and welcoming so is great for families, groups or even solo diners. We had [the most incredible] salad, salmon, veggies and so much more including a white bread pudding that we continued to talk about for days.
---
For lunch the next day, we ventured a little farther out of the downtown area for Yoshi Sushi Fusion and it's well worth the [short] drive. We started with their brussels sprouts and they're so incredibly savory that I had to make myself stop eating them. Next, I went for the five piece Okamase Nigiri. If you like fish and sushi then this is definitely a great choice. Each piece is so fresh and flavorful and will leave you wanting more.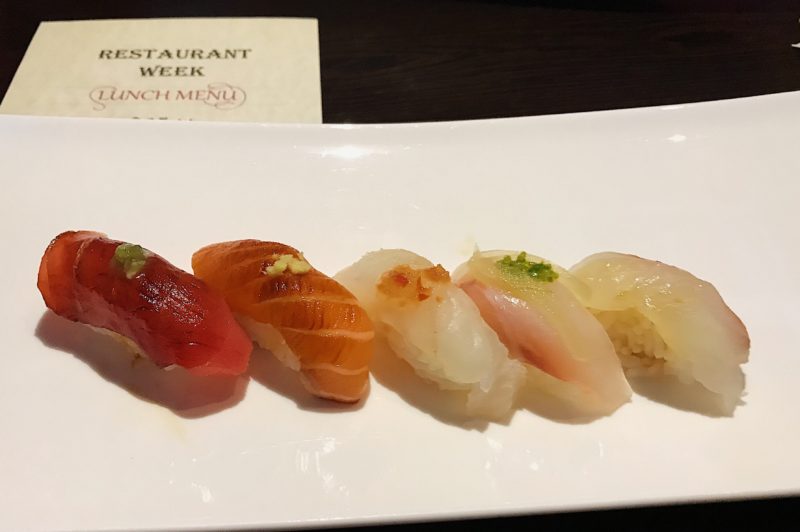 I definitely have a sweet tooth so when I found out dessert was salted caramel gelato I was already excited. This is, without a doubt, the best salted caramel gelato I've ever had. It sits on top of corn flakes and more caramel so each bite is creamy and smooth, but might have a little crunch if you get the flakes. Their entire menu is so large and inventive that I'll have to keep going back so I can try everything…looking at you green tea gelato.
---
Dinner at Nick's Ristorante is another treat. Proof that a steakhouse always has options besides steak. I don't eat red meat so I went for their special, sea bass with a cauliflower risotto, and it was so delicious. If you do eat red meat, everyone was raving about the steak. Desserts are also exciting here, especially if you order Mom's Baked Alaska.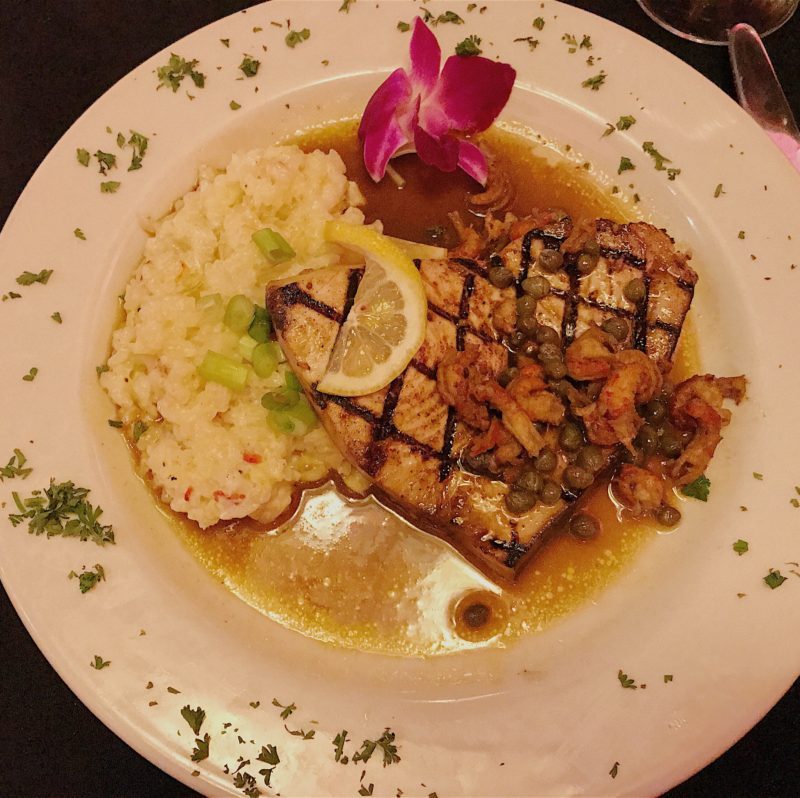 They also have a pretty large wine list, which is never a bad thing. If you like cigars, there's also a cigar bar right next door where you can enjoy your meal while also enjoying your cigar.
---
The Social at Athletic Club Alabama was our last stop and it was a great way to end the weekend. The Social is inside the [new] Athletic Club and is not what you'd expect for an athletic club. The space is beautiful and can be used for events as well as normal dining during its operating hours. The menu will change quarterly, but some items will stay on the menu year-round.
I started with their southwest salad, which was really delicious. For my entree, I went with mahi fish tacos and brussels sprouts. Their fish tacos are so tasty and definitely my favorite. The fish is cooked to perfection, but what makes the taco so great is the addition of incredibly fresh tomatoes, lettuce and cheese. I also tried the BLT Twist [minus the bacon] and had a bite of the shrimp pasta, both are unbelievable.
---
If you're visiting Huntsville and need a place to stay The Westin is perfect. It's close, newly renovated and has everything you need [Starbucks]! It's right next to Bridge Street Center shopping and dining and also home to The Element. This is a new concept where the top five floors of The Westin are larger rooms more similar to a condo. These rooms have a small kitchen and living space as well as bedroom and bathroom. That makes The Westin or The Element the perfect place to stay while in town.
---
Huntsville Restaurant Week is definitely something that can't be missed!
There are so many places to see in Huntsville that you'll have to go back for more.
Make sure to check out the other incredible bloggers to find out more about Huntsville and Restaurant Week!
*I was invited as a guest of the Huntsville/Madison County Convention and Visitor's Bureau and was provided meals and hotel stay during this Food Blogger's Tour. All thoughts are my own.* This post might contain affiliate links. This is at no extra cost to you and allows me to continue creating content.