My initial Australia plans didn't include a trip to Fraser Island, but when you constantly meet other travelers who say you have to go on a Fraser Island tour then you go. I honestly didn't do a ton of research before booking a tour because I booked it so last minute, which luckily worked in my favor when I booked with Dingo's.
Fraser Island is the world's largest sand island and is off Australia's eastern Queensland coast. The entire island stretches about 120km. Their highway is literally the beach and has a speed limit of 80km per hour [for the beach roads].
After arriving in Rainbow Beach, checking in and dropping off my bags I ventured into town for some food [duh]. My hostel, Dingo's, was very close to the main area of Rainbow Beach, which is a tiny and adorable town. The beach was my next stop because I could finally get into the water without wearing a stinger suit.
The morning of the tour starts early and with a pancake breakfast before splitting into groups and prepping the trucks with food and gear. Our first stop is the barge that takes you to Fraser Island and is a really quick trip. As soon as you arrive on the island it's full-on beach driving and dirt roads except for a few areas that have paved roads. You take a lunch break before heading on to the next stop, which for my group was a lake. We were the only group there and were able to swim and take in the freshwater experience in peace. On the way to the campsite we stopped at a beach front shipwreck and took some photos before continuing on to the site. Here we cooked, ate and cleaned before gathering with the other groups and playing some drinking games around the campsite and bonfire.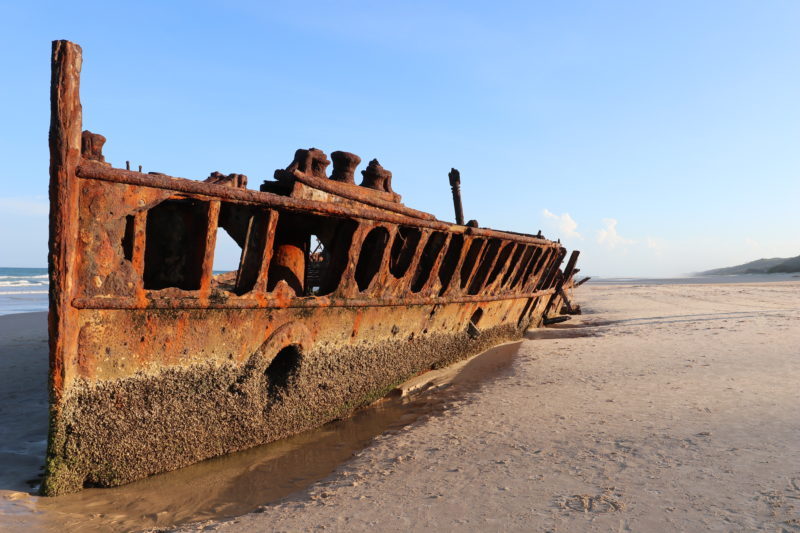 The following day we had a full day of exploring and making stops along the way for a swim or hike. My favorite part of the day was honestly driving on the beach because it stretches on for miles/kilometers and is so fun…especially if your car is blasting classic tunes for everyone to sing along with. Fraser Island is full of so many incredible spots so make sure your camera is ready! Also be ready to get in and out of the cars and to be sandy all day! We had plenty of time at each location to see everything we wanted to see, take photos and immerse ourselves in the place.
Our last morning was an early one because we wanted to make the most out of the time we had left before catching the barge back. So we were up and out of camp by 7am and headed to our last stop where we were [again] the only ones there for a while. My groups last stop was Lake McKenzie, which is a beautiful lake that definitely doesn't seem like a lake because the water is crystal clear where you'll be swimming. It's definitely one of my favorite places we visited.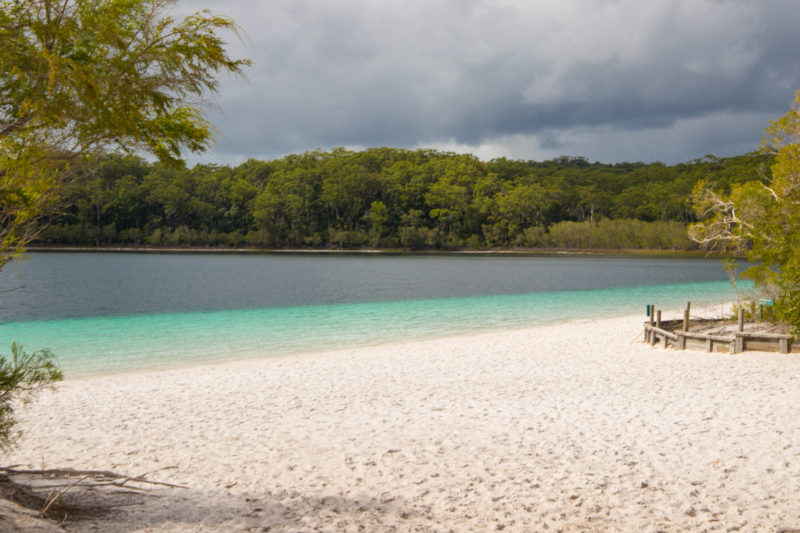 There are several groups that are traveling with the same company on the same tour, but each one does different things during the day before meeting at the same campsite each night. All meals are included on this tour, however, you do prepare them with your group. It's actually fun cooking because everyone in your campsite is doing the same and we usually cranked up some music and had some fun while cooking. It is BYO though so if you want some goon [Australian boxed wine] or beer then you bring it yourself or can buy it from Dingo's during your intro meeting.
*I did not work with Dingo's on this Fraser Island tour so all my thoughts are totally my own.
Pin me for later!