The Great Barrier Reef is known worldwide for being the largest living thing on Earth. The Great Barrier Reef is located off the coast of Queensland, Australia and stretches over 2,300 kilometers. What some people might not know is that the reef isn't as alive and vibrant as it used to be. This is because of warming ocean temperatures as well as other environmental factors and the amount of people that visit everyday. That means that some tours visit parts of the reef that are closer to the mainland, which I didn't want to do. The farther out you go, the better the reef is supposed to be.
Choosing a company to go on a day tour with can be overwhelming because there are so many to choose from and they all seem pretty similar. I chose Reef Experience because someone in one of my hostels recommended them and that was enough for me. I'm glad I did because it was one of my favorite days and tours I did during my entire 2-month Australia trip. This isn't entirely because of the coral or snorkeling, while it is pretty good. It's because I felt safe and remained well fed the entire day.
The Reef Experience tour leaves from Cairns and starts early-ish depending on what you think is early. Boarding started around 7:30am and waiting in a short line worked out well because I met a few other solo travelers who I hungout with most of the day. After you board the boat, you're given your gear and can grab a seat inside. While everyone else is boarding, it's a good time to grab breakfast, which is coffee/tea and a breakfast sandwich. The sammie was surprisingly fresh and consisted of bacon, egg and cheese although I had mine with no bacon. After signing your waiver, being assigned your safety number and deciding whether or not you want to try the introductory scuba dive, you set off!


It takes about two hours to get to the outer reef that we explored. Luckily for me, I was in the first group to scuba. I'm not certified and after a not so great experience somewhere else I didn't think I would try again, but I was on the Great Barrier Reef so I thought I should give it one more chance. I'm so glad I did because the Reef Experience staff knows what they're doing and make you feel incredibly safe. We split into small groups so there are only about 4 people per instructor and there are also a few others taking photos, etc. who are diving alongside you.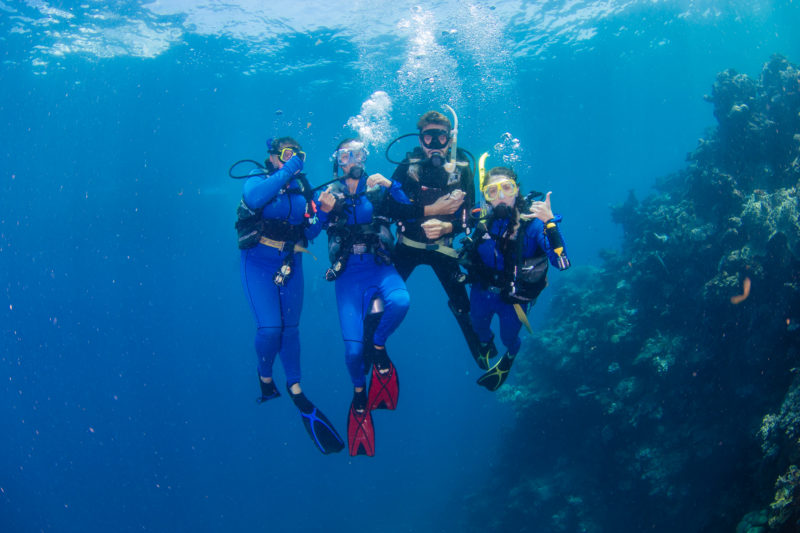 After [taking our time] making sure we know what we're doing and feel comfortable, we begin to descend while our arms are linked with our guides so we are literally attached and safe. If and when you feel safe, we were allowed to let go of our guide's arm and swim a bit on our own, but we stayed within arms reach just in case we needed assistance. This experience lasted about 30 minutes before we made our way back to the surface. Once our scuba gear was off we could snorkel or relax on the top deck to get some sun. I, of course, jumped right back in and snorkeled until lunchtime.
I'm not going to lie, sometimes meals on tours make me nervous because I don't eat meat, but this tour had so much incredible food that there is no issue. They even have a really delicious veggie option instead of the meat. There are multiple salads, bread and more to choose from and it's all incredibly tasty. They is also a chef on board who is preparing the food as soon as everyone starts snorkeling so it's fresher than most tours.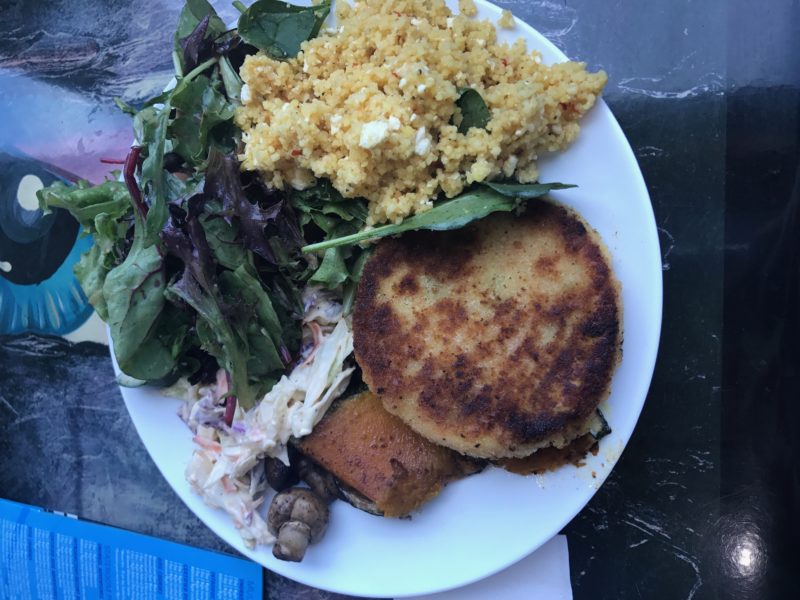 After/during lunch, the boat moves locations so we get a different perspective of the reef. Once lunch is over, it's right back in the water for what feels like a couple of hours. Then it's, unfortunately, time to head back to Cairns. As we re-boarded the boat and began cruising back there was more food offered. This time it's wine with cheese and crackers. At this time we could also pay a little bit extra to receive the professional photos that were taken during the scuba diving and snorkeling. I payed around $30 to have 4 or 5 pictures, which seems like a lot, but they're way better quality than my GoPro photos and it's a great keepsake. Once we got back to the dock it didn't take long to unboard and then I set off for dinner and an early bedtime because I was wiped.
Feel free to ask me any questions below!
Want to save this for later? Be sure to Pin It!